That's anybody's guess, aint no good reason for getting all depressed…
10 Weight Wars Points to anyone who can tell me where that lyric is from (not you man)…I've been reliving my youth today and that song makes me smile so much, it reminds me so much of happy times.
It also ties in nicely to something that's been playing on my mind since I read Diet Schmiets blog earlier. She talked about Alcoholics Anonymous, she's neither Alcoholic nor Anonymous but she pointed out that their philosophy could apply amazingly to weight loss too. This blog is named Weight Wars because it's a battle for me, I battle lots of things which I find difficult to talk about, starting at general laziness and moving right through to some other more serious stuff. AA talk about One Day at a Time, and that's so true for dieting. If I can just get through today then everything will be ok, cause everyday is eventually a today. Everything is so up and down at the moment, my food control seems to swing from damn perfect to completely bombed. I recommend you check out her blog by the way, I suspect she is the same person as me, I've never seen her in the same room as me, but she's funnier.
I figure I need to get up everyday and say lets rock this bitch today. Just today. Cause what could be easier than that?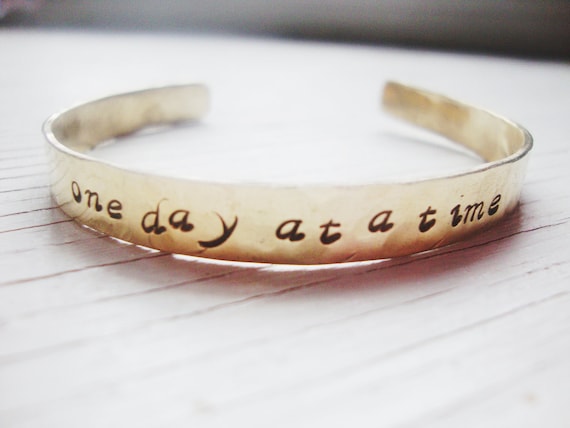 (I want that bracelet so so badly! there are some damn talented people on Etsy)